My hunch is someone you trust mentioned my name, or you encountered one of my tweets, quotes or articles online. Regardless of how you landed on this page about me, I'm thrilled that you did and I'm excited to share my story with you.
From a young age, my insatiable curiosity drove me to explore the inner workings of the world around me. Whether I was tinkering with electronics or delving into culinary experiments, I relished the process of discovery and learning. 
As I embarked on my University education, I chose to pursue a Bachelor's in Business Administration at IBS Hyderabad, driven by the belief that it would ignite my passions and provide me with the necessary knowledge and skills.
This educational endeavor not only fueled my passions but also helped me in achieving professional success. Throughout my journey at IBS, I delved deep into the realm of marketing theories and business strategies, and my enthusiasm inspired me to offer my insights to local businesses as a freelancer, aiding them in elevating their marketing pursuits.
Upon graduation, I landed my first job in a SaaS startup, Word Pigeon, a WordPress tool to streamline blog posting. Here, my love affair with digital marketing, particularly SEO, blossomed.
The notion of harnessing technology to forge connections between brands and individuals, weaving captivating narratives that inspire action, fascinated me.
Subsequently, I joined Pearl Lemon, an award-winning SEO agency, where I embarked on a path of continual growth and skill refinement.
Collaborating with colleagues from around the world, companies ranging from e-commerce brands to SaaS companies, F&B startups to esports organizations, and even a luxury jewelry brand, I honed my SEO craft and relished the opportunity to think creatively while relentlessly pursuing top rankings, all from my couch in India.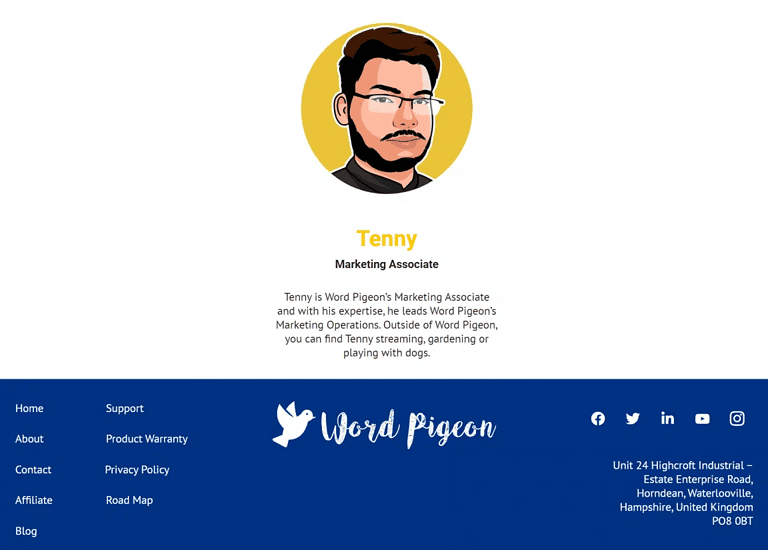 Fueling my ambition to master the science of marketing, I moved to the UK, where I pursued an MSc in Marketing from The University of Edinburgh.
This academic journey broadened my horizons, exposing me to diverse cultures and perspectives firsthand that changed my thinking and equipped me with unique approaches to tackle challenges.
As my marketing voyage progressed, a profound realization took hold – my true passion lay in empowering brands to flourish. Witnessing a company grow as a consequence of my efforts ignited an unparalleled sense of fulfillment within me.
Yet, I yearned for something more audacious and exceptional. Thus, I made the leap into London's corporate realm, joining an industry leader in SEO, Merkle, a Dentsu company. At Merkle, I had the privilege of working with pioneering brands in e-commerce, healthcare, and luxury fashion, along with my Merkle teammates who share my unwavering interest in SEO.
However, my journey doesn't end there. I thrive on exploring diverse avenues that expand my horizons and nurture continuous growth. I firmly believe in hustling, this helps me in diversifying my skill set and learning new things that drive me toward my long-term goals.
One such area is investing in stocks, where I delve into the dynamic world of financial markets, analyzing trends and making calculated decisions to maximize returns. I'm still learning by doing, losing more, gaining some, learning lots, and always keeping an eye out for opportunities.
Another captivating hustle that has captured my interest is domain trading. I immerse myself in the intricacies of the domain market, identifying valuable domains and strategically acquiring and selling them to create opportunities for businesses to establish a strong online presence.
Additionally, I revel in the art of building niche sites, catering to specific interests or industries, and curating invaluable content that resonates with a targeted audience. These ventures enable me to continuously expand my knowledge and expertise while embracing the challenges and opportunities that arise.
When I'm not immersed in work, you'll find me relishing good food (mainly chicken, to be honest), traveling and indulging in captivating entertainment that I tend to devour in one sitting.
My most recent guilty pleasure was binge-watching almost 25 hours of Ozark in just three days. Alongside these pursuits, I find solace in the presence of furry companions—dogs, in particular. These activities ground me, infuse my work with fresh perspectives, and remind me of the simple joys in life.
When it comes to my favorite shows, I have a steadfast devotion to WWE, never missing a weekly episode. I hold a special admiration for the epic saga Game of Thrones, its prequel House of Dragons, and the gripping tale of Last of Us.
I actively try to embrace sustainability and firmly believe in the power of the 3Rs: recycling, reusing, and refurbishment. I'm trying to share my life based on these principles. In my spare time, I engage in various volunteer opportunities that align with promoting the 3Rs and empowering underprivileged communities.
Moreover, I derive immense satisfaction from mentoring individuals with ambitious goals who may need guidance to navigate their journey to success. Drawing on my expertise, I provide them with direction. If you know someone seeking guidance in marketing, I am more than happy to offer my assistance.
Now that you have a glimpse into my journey and passions, let's turn our focus to you. If you're eager to power up your marketing game and gain access to resources curated by industry experts, you're in luck. The purpose of this website is to provide you with insights, ideas, and tools that can propel your brand to new heights.
But if you're ready to take the next step and truly get to know me better, I invite you to book a call.
Let's connect and chat about extraordinary things you're building or
we can simply talk growth, SEO, AI, Automation, and Dogs
I'm always up 🙂
Weekly Search Newsletter
Stay in the loop with the latest in search news
Consider Subscribing